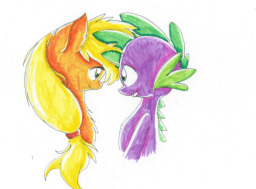 Source
Applejack has reached her mid-life crisis before anypony else probably has. After taken into careful consideration, she now knows just how alone she is, and what she's willing to do have love. Does that make her a bad pony? Maybe it does, but if she has to one that holds her heart, should she care so much? Answered questions may haunt her for the rest of her life. A tale based off of the hit TV show series "Once Upon A Time" Where a dragon soon realizes that a mare means more to him than his one 'true love' ever had. Follow their emotions as we set the spotlight upon our 'Snow White' and 'Prince Charming'.
Taken place in the same universe as No Romance For Twilight Sparkle.
This is an Alternate Universe. Anything that may not be accurate should be accepted as such.
RATED TEEN FOR: Foul Language, Adult humor, and Sexual Innuendos. (Reason I did not rate sex is because there are no explicit sex scenes)
Chapters (1)