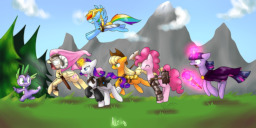 Source
Unwilling to wait another 40 years to meet her friends again, Twilight is considering time magic to try and drag Legendary three's time to her own and then reset the anchor. But with uncertainty and a hesitant leader of Equestria there are more than just a few simple obstacles in her way. Can Twilight really move time with certainty? Will she succeed in convincing others to help her? And if she actually manages to move time and open the gateway what really will lay before her on such an uncertain pathway?
Lets find out shall we?
This is a sequel to Equestrian Scrolls I: Epic Pony Tales I recommend you read it first if you haven't.
Official edited by the amazing and talented PixelReality
And here is some art donated to the cause by the wonderful and talented Leftover of Saikano who was kind enough to give this elder scrolls ish themed piece.
It was not what I needed for my story but it was too wonderful to pass up.
Chapters (7)