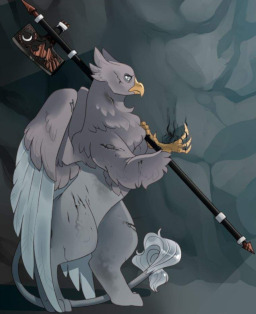 Coming to as if he was only just created and fleeing dangerous foes without a single scrap of knowledge as to who, what, or even why he is, a single griffon races to find answers. He does well in finding somepony interested in helping him and finding out exactly what is wrong. He just never expected it to be royalty. His life being empty, save for a princess or two hoping in and trying to assist alleviating his pain. He fills the terrible dark gap in his soul any way he can, which gets him in trouble in more than one way.
Special thanks to Tathem Relag and Earl for their masterful editing and proof reading.
The art provided was by amazing artists Nick Valentine and Earl from Equestrian Amino.
(Please note that this story varies lightly from canon. The story does not feature known characters like Starlight Glimmer or Thorax, additionally, events in the story imply noncanon things like Changelings being incapable of turning into skittlebugs, and some minor headcanon on a few various topics.)
Chapters (16)