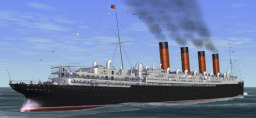 The Equestrian Ocean has seen many types of ships over the years. From the time of large sailing vessels relying on their pegasus crew members for power to the age of the paddle wheel steamships. Nowadays, ships are driven by powerful steam turbines. One such ship is the recently completed flagship of one of Equestria's top shipping companies, the EMS Mareitania.
Leading her on her maiden voyage is Steel Blade, a young Captain who was just promoted weeks prior. But he will have his hooves full as threats of a possible attack by changelings linger over this historic event. With this in the back of his mind, he must move forward if he wants to make his company proud. But once out on the open ocean, anything can happen.
Will Steel and Mareitania complete their first voyage? Or will the threats of attack turn into reality?
---
(Currently being rewritten. Set after Season 6 finale.)
Chapters (5)