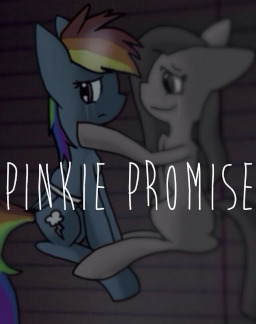 Source
My name is pinkie pie, i live in ponyville with all my best friends. I should be happy right? but i have been keeping a secret for my whole life, all to protect the breaking mind of Dashie.
Fluttershy sat across from me with her concerned azure eyes staring deep into my soul with concern. "Y-you can tell me anything pinkie..." she cooed softly, her voice echoing in my soft pink ears. I had been trying to hold it in, hold in how i fell in love with the cyan Pegasus, how i had killed my father, how i got my cutie mark, how me and the rainbow maned pony met at the asylum. How she forgot.
but secrets were hard to keep for so long, and i knew that if i could tell anypony about what happened, it was Fluttershy.
"o-okay, well i guess it all started on a rock farm" i spoke calmly, as the rest of the story poured out of me.
AMAZING ALTERNATE ENDING/ EPILOGUE HERE: http://www.fimfiction.net/story/190532/pinkie-promise-epilogue
(cover art by me: toxicdemon10 on Deviantart)
Chapters (23)