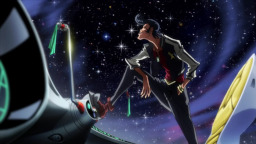 Source
What happens when Space Dandy, the galaxy's suavest, good looking and sharp dressed man ends up on Equestria after an incident with his hyper drive? Well... lets just hope he doesn't do anything he'll regret later...
Like letting the Cutie Mark Crusaders go get registered with the Space Alien Registration Bureau so they can go on space adventures...
Seriously... What could go wrong?
Chapters (2)