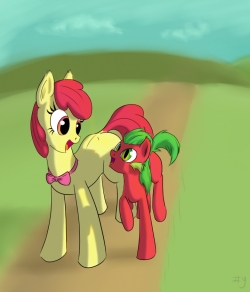 Inspired by fanart from artist Banshee42ru. Set a few years after Season 2 (pending future edits), the story follows the relationship of Spike and Apple Bloom. Their young love takes a serious turn when she finds herself pregnant with a half-dragon, half-pony foal. How will their family and friends react, and what will this halfbreed child mean for them and Equestrian society as a whole?
NOTE: Updates and new chapters tend to take a rather long time, but unless I actually put it as 'On Hiatus' I actually am working on it. It's not abandoned, I just have a really slow writing process.
Also, a while back someone sent this to Equestria Daily without asking me. I appreciate the thought, but they work on a strike system and I really don't want to be locked out.
Chapters (8)