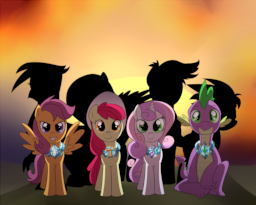 Source
Six years after the events of "Love Will Set You Free", the peace in Ponyville is disturbed as an ancient prophecy seems to be coming true, involving eight new elements - of which only four are known.
"Love Will Set You Free" should be read first, otherwise the story will make little sense in some places. Also, as in that story, this one's chapters are titled after songs from the 2012 Eurovision Song Contest, as is the story as a whole.
Character tags mostly include characters new to "L'amore è femmina". For characters returning from "Love Will Set You Free", please refer to that story's character tags - they all apply to this one as well.
Cover illustration by Madame Castafiore (csimadmax.deviantart.com)
Chapters (16)