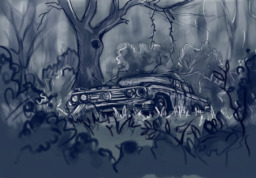 Equestria and Earth occupy the same point in space and time, just in different realities. Occasionally, a rift may open, allowing something to fall through. Most of the time, its something insignificant, like a few particles of dust or a sock.
Yet sometimes, something bigger might fall through. Something both amazing, and mundane. Something beautiful, yet ugly. I guess it all depends on who's looking at it.
What if, one day. A car fell through the planes of reality? What would the ponies make of the strange object we take for granted on a day to day basis?
And most of all. What stories could it tell them?
Co-authored/edited by Sneaky
Chapters (3)