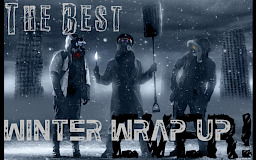 Romantically Apocalyptic Crossover (I literally found that comic and spent four hours reading all 154 issues. Another one should be out soon...)
After a particularly rough day hauling his gear around with a couple of lunatics and a bitter scientist in a post-apocalyptic land now most commonly known as "Captania," Charles Snippy is tired. More so than usual, I mean, they've been attacked my aliens, zombies, nutrition worshiping cults (That was Captain's fault) and lots of things that shouldn't exist, but he had to admit that a legion of tri-breasted, sentient, transgender snakes was a first.
But, instead of giving Mr. Snippy a break, Pilot goes of and starts doing whatever it is he does, which kind of sucks the entire group into a(nother) trans-dimensional worm hole, this time to a place called "Equestria."
Oh Boy.
Chapters (5)