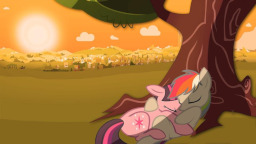 Sunny evenings, trees, courage and confessions...they all lead to the beginning of something big. Something beautiful.
---
[/hr]
My first romance story, don't hold back on criticisms.
This was inspired by a cute little FlutterDash comic that I read on the internet, but I changed lots of things and made it into a better ship: TwiDash!
Have fun!
Chapters (1)