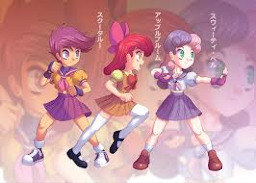 Source
Thirty moons of annoying bragging from Rarity.
Three years of jealousy and annoyance.
Sweetie Belle was fed up.
Ever since the historic battle of Twilight Sparkle and Sunset Shimmer 3 years before, Sweetie Belle had been curious beyond words. How could such powerful magic exist in the universe? How is there a world of equines?
"It's the magic of friendship darling," Rarity said countless times.
That answer never satisfied her.
One afternoon, Sweetie Belle discovered that the fabled magical portal had reopened for the first time in 3 years. She called her two friends, Scootaloo and Applebloom, and explained the news to them. They were unbelieving, but decided to travel with their best friend into the portal. When they got to the other side, they were indeed in Equestria, but it wasn't what they expected. It was a tragic world of disharmony.
Chapters (4)