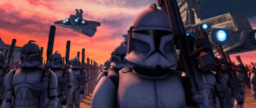 A series of Clone Wars stories in Equestria for fans of the Clone Wars show, video games, comics and ponies.
War has engulfed the galaxy! With heroes on both sides, the bitter conflict between the Galactic Republic and the Confederacy of Independent Systems threatens to consume countless star systems. From the Core Worlds to the farthest reaches of the Outer Rim, the Clone Wars have affected countless lives. The fight rages every day between light and darkness.
The planet Equestria has been fortunate enough thus far to have avoided conflict. But soon, the ponies find their luck has run out, as their planet becomes the next battlefield in the greater war. Far from the rest of the galaxy, both sides fight for the fate of Equestria, knowing that even a single act can change the course of the war forever...
Chapters (3)