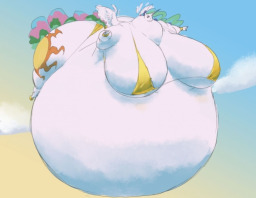 First Discord spikes Luna's shampoo to turn her mane into Celestia's. then filling a bunch of boiled collard greens and spinach into Celestia's favorite cake. Now he's mocked Celestia's weight, knowing full well how sensitive she is to that! Now they're going to get him back in their own special way!
(Warning!!! This story contains facesitting, inflation, scenes of crushing, femdom, crude humor. and two very angry alicorns! you have been warned!)
No trolling and shaming comments allowed! If that's what you want to do, then you can do it somewhere else. Constructive comments are however, very much appreciated.
Chapters (1)