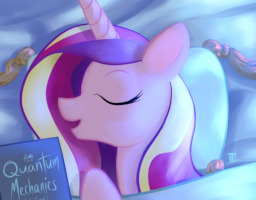 Following a tiring day, you and Cadence encounter trouble sleeping. The two of you give the matter some thought and you come up with a simple idea that just might do the trick... a late night snack of cookies and milk. But can such a simple remedy really work and help you both return to dream land?
Please note: Pony x Human story, no clop, but has some kissing and cuddling.
Author's Note:
This was a fun idea that came to me when I had cookies and milk at work the other night. And who better to share such a fun snack with than Cadence. Oh and please note in this story, she's your mare and has no affiliation with Shining Armor.
Cover art by 1trick.
Chapters (1)