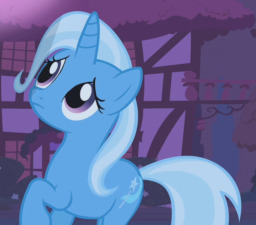 Trixie's life has been filled with sorrow and heartache. Her trip to Ponyville was no exception. Now after the attack of the Ursa Minor, Trixie finds her life has hit a new low. After sifting through the remains of her wagon, she wanders off nearly broke and dejected. That is until she receives a helping hoof from an unexpected pony.
A week later, Twilight Sparkle discovers a yearbook from her time at "Celestia's School for Gifted Unicorns". She tells Spike the sad tale of a friendship between her and Trixie from when they were both younger. The discussion leads Twilight to Canterlot, where she hopes Princess Celestia can help her find Trixie. But when the two unicorns meet up, can they put the past behind them and revive their friendship or will they remain bitter rivals? And what secret about Trixie's ancestry does Princess Celestia finally intend on revealing to her?
This story was partially inspired by the events from "The Not So Great And Somewhat Powerful" a touching story by xxGamer101xx. I also wrote this story because Trixie is one of my favorite ponies. I can't help feeling for her plight, and have been sad that there have been no additional episodes with this inspiring unicorn in them.
Chapters (1)