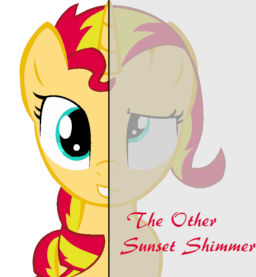 Sunset Shimmer had a pretty good outlook on life. She had great parents, good friends, and was going to a nice school. For her, life couldn't have been any better, until one night she saw the impossible happen, when "She" collapsed out of mirror like plaque on the Canterlot High Statue. Next thing she knew she was a unicorn, in a castle, with other "ponies" that looked way too familiar to be just a coincidence.
The fic is on hiatus, more than likely for an indefinite amount of time. Obviously, because I suck as an author. For now it serves as a warning for new authors to follow as to how not to write a fic.
Special thanks to molly wormdirt for editing and to Tennis Match Fan for the cover art.
January 30th, 2016 featured. I, what, I don't, I wasn't expecting. Okay, cool. Thanks readers!
Chapters (24)