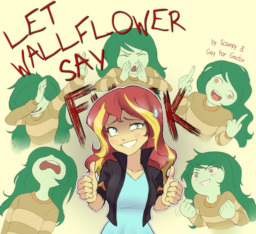 After saving Wallflower from an abusive home, Sunset figures the best way to help with her girlfriend's years of trauma is challenging the restrictions she's lived with all her life, like with saying curse words.
Turns out, Wally's very good at that.
---
Content Warning: While this story has elements of comedy, it also contains realistic discussions/depictions of abuse and PTSD/C-PTSD.
---
Amazing cover art by our lovely friend Xandra \o/
Edited by I-A-M and Posh (the best and cutest one)
Collab with Gay Gay Homosexual Gay

---
"This was hilarious and stupid and touching."
~Dave Bryant
Chapters (5)