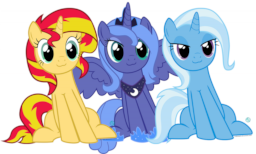 Princess Luna, Sunset Shimmer, and the Great and Powerful Trixie meet in a bar every Friday for drinks and to chat.
This is what they chat about.
An episodic story updated whenever I think of anything new. Will probably never be marked "Complete".
Rated Teen and Sex for risque conversations. No actual sex. Has a little Sunlight shipping; as usual, I cannot help it.
Cover image compiled using the super-cute vectors created by arifproject and used with permission. Go take a look at all his adorable art!
Many thanks to FanOfMostEverything for being kind enough to preread the first three five all the chapters for me!
Chapters (9)