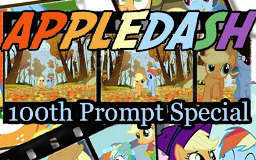 Adventure
Romance
---
Celebrating 100 mini-fics, 23 members of the AppleDash group collaborated on a single story based on a one word prompt, Desire. Each chapter is between 200 and 1500 words long, each written by a different author. Each author had 3 days to write their chapter before the story got passed on to the next author, who continued where the last person left off.
---
Applejack and Rainbow Dash return home from a day out visiting Rainbow's parents, but something is bothering Applejack: her own parents—or lack thereof. She wishes that Rainbow could have met her parents... but then, why can't she? Tartarus does exist, after all.
---
Each chapter of the fic went through only minor editing to ensure consistency with names and to correct grammar and spelling. Aside from that, each author was allowed to write in whatever style they chose.
Authors (in order of appearance):