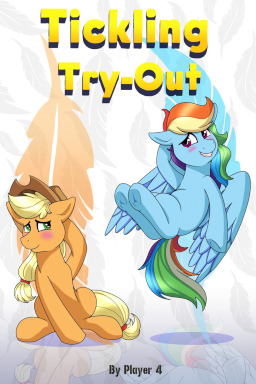 Cover art by Little Tigress
---
Applejack and Rainbow Dash enter a period of struggle featuring reconsideration, confusion, evidence-checking, embarrassment, and more. Now, what's causing all that?
In short, what these two ponies remember about their experiences with tickling is that they don't like it. They don't want to be tickled.
But now... they do. They question if the memory sources they draw their dislike of being tickled from are reliable to how it would feel in a different setting.
No use not trying, right? Well, they agree, but it's not like they can just ask anypony to tickle them... right? No, that's too embarrassing. It's too sappy for these tough tomboys...
...but they want to be tickled.
---
I wrote a blog in which I quoted several parts of this story and made comments about them. I sure do have a lot of post-writing process thoughts on this story. I'd love to see you guys there!

---
This story is the first part of the series Adventures in Tickling. (Series title suggested by Captain_Cosmos). Full series table of contents:
1. Tickling Try-Out - complete
2. ?????????
Will be updated as series continues!
Chapters (4)