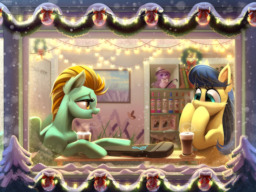 Source
Fiddlesticks is stuck at home for the holidays. That is, until Lightning Dust decides to drop into her life.
---
This is a Christmas gift for The Red Parade, who, aside from being a wonderful friend, writes some absolutely amazing stories that you should go read. (He's also crazy enough to also help edit his own present.

)
Cover by the exceptionally talented RRDartist. Go check them out!
Chapters (1)