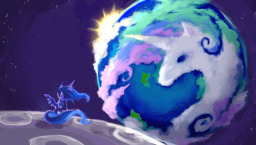 Banished projects, miscellaneous scraps, and the detritus of larger works.
Mortal Deleted Scenes [Slice of Life, Sad] Finished scenes I had to cut from Mortal for one reason or another. Status: DONE.
One Giant Leap [Drama, Scheming, Zany] Princess Luna is ready to reclaim her rightful place as Celestia's equal, and woe unto anyone who gets in her way. Status: ABANDONED.
The Counterfeit Sister [Action, Mystery] Rarity punches some changelings in the face. Status: COMPLETED DRAFT.
Starcraft: Wings of Everfree [Action, Crossover] Twilight Sparkle tries to keep the Terran and Protoss from murdering each other. Status: ABANDONED, probably.
Durance [Violent, Dark] Long before the founding of Equestria, three ponies are consumed by war. Status: CANNIBALIZED for parts for a different story.
The King's Lament [Tragedy, Random] Sombra's heartwrenching backstory. Status: I REGRET NOTHING
Me Little Pirate: Friendship Be Magic [Alternate Universe, Swashbucklery] Do what you want 'cause a pirate is free! Status: ABANDONED
Nightmare [Adventure] Pinkie Pie faces her fears. Twice. Status: DONE.
The Elements of Style, Part 2 [Alternate Universe, Puns] Writing is important, you guys. Status: It seemed like a good idea at the time.
Sunset [Alternate Universe, Adventure] Luna's most talented student must use the Elements of Harmony to save Equestria from eternal day. Status: The first and last scenes of the introduction.
Where The Heart Is [Slice of Life] Carrot Top goes home for the holidays, eventually. Status: DONE.
Chapters (13)