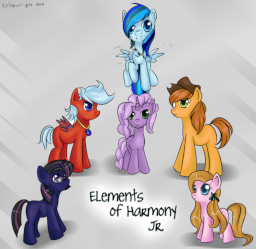 This story takes place anywhere from a few months to a year of Frostfyre's birth in Motherhood is Magic. In this story, Applejack, Fluttershy, Pinkie Pie, Rainbow Dash and Twilight Sparkle will have to face their own hardships on their way to motherhood. The question that stands now is, will they be able to handle it?
Thanks goes to celestail-lights (http://celestial-lights.deviantart.com/) for the cover art.
A/N: I would like apologize ahead of time if the time lines don't add up just right or some events are missing out of a story that were in other stories, it can be somewhat difficult and irritating to get them to line up perfectly AND have them flow with the story. And if you get confused about the age differences, it should be this: Frostfyre is three months older than AJ's kid, AJ's kid is three weeks older than FS's kid, FS's kid is a month older than RD's kid, RD's kid is two months older than PP's kid, and PP's kid is a month older than TS's kid.
Chapters (4)