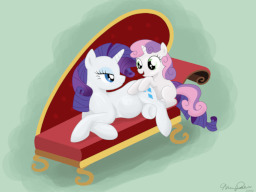 This is the revised version of my original story. Hopefully you guys like it!
This is the story of Rarity, Ponyville's famous dress maker and fashionista, and the trial she has to face on her way to motherhood.
Dedz to ThatGirl2147 for helping me fix up the story and Dedz to kkpmakeup (glittering-pony on deviantart: http://glittering-pony.deviantart.com/) for the cover art.
Chapters (7)