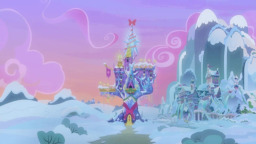 Winter time is here. Snow's fallin, School's out, and that means a fun day for our favorite residents of the Castle of Friendship! It's the first Medley Snowball Fight! Kids VS Adults. 10 on 5. Who will win? And who will be buried in the rubble of their Snowfort? Find out in this surprise one shot I came up with in under 24 hours!
.
.
.
.
.
.
Ok This should be long enough for the more button to appear. This story is more an experiment than anything. So, You might have noticed that the ratings were disabled for this one. Well, I think It's time we identified exactly how many of SH's Dislikers are common trolls and are from folks who genuinely do not like Sparkling Harmony.
So what am I going to do? There should be a comment under this story with a Twilight Smily Face on it made by me. If you like this story, like the comment. Now, I realize that all the ratings could be genuine, but my hunch is they're not all genuine because for my most recent story, it got dislikes before anyone coulda finished reading the chapter. My guess is the trolls are too lazy to put in the work to scroll down and dislike the comment if all they're doing is disliking the story without reading it. And I am going to do everything I can to make sure they HAVE to scroll down.
To those of you who genuinely do like the story and genuinely want to rate it. My sincerest apologies for the inconvenience. Your support is what keeps Sparkling Harmony going.
And if for whatever reason you do dislike the comment…maybe give a reason please? You're already down there so what's the harm? I promise I won't come after you.
Chapters (1)