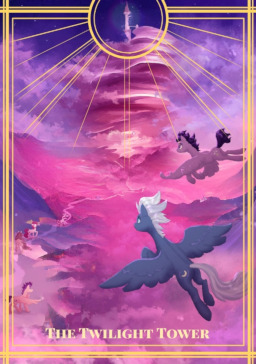 Source
A child prodigy, a stallion running out of space, agents on a mission, a mage at the height of her power, a farmer in search of a new beginning, and a pony that just wants to keep her secrets buried. The caretaker who watches over them all.
Empty roadways after dark, lit only by the pale moon and distant lights. Living rooms void of furniture and life, with only ghosts lingering where warmth once was. Supermarkets with full shelves, and distant songs playing overhead with the hum of electricity flowing through the air. Places where life should be, but isn't. Places where you can't help but feel that you do not belong.
Ponies that have nothing and everything in common, in places that wear familiar faces but are haunting all the same. In a world beyond space and time, the tower teaches them the lessons they must learn.
---
This a tale of liminal spaces, twists of fate, and a tower that looms over everything and everypony below. It will update twice a week until it is complete, usually on Tuesday and Thursday. Strap in for a long ride.
UPDATE 16 nov 2022: The first arc is now complete, so there will be a temporary hiatus till the second arc is ready. Stay tuned!
Cover image is a commission from Shaslan.
Chapters (9)