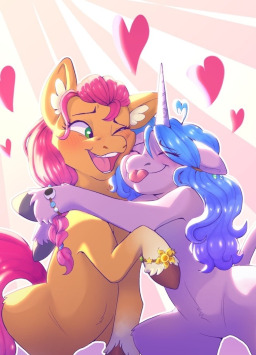 Source
This story is a sequel to Questions #143 and Beyond
---
With the loveliness of their first intimate night together fresh in their minds, Sunny Starscout and Izzy Moonbow's attentions turn to lost histories, both personal and worldly.
Who is Sunny's mother? Who are either of Izzy's parents? How did Equestria get to such a state? What became of its legendary heroes and landmarks?
Every question has an answer - you just have to know where to look for it.
---
A romantic adventure with plenty of dramatic twists and turns along the way. There will be sex scenes posted under a separate M-rated story, but no plot-important things happen in them, in case you were worried.
Content Warning: This story contains an incestuous relationship. If this is not to your liking, I totally get it, but I do my best to handle it in a reasonable way that gels with an equine perspective on inbreeding rather than a human one - horses have enough chromosomes that inbreeding has few consequences, therefore an equine society wouldn't have a strong taboo.
Chapters (5)