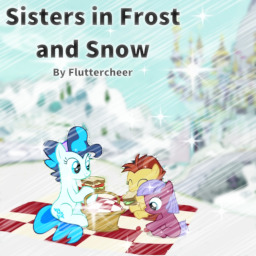 At the beginning of the Age of the Great Frost, Canterlot has fallen. The ponies who lived there either dead, hiding inside their houses or having joined the Ponyville expedition to find the fabled Generator.
Those who decided to stay in the mountain city fought a constant uphill battle for food and firewood. In this collapsed society, a mother and her two fillies are part of the battle, but their mother just lost it.
Hyper Sonic and Gooseberry were on their own now and all that was left for them, except for trying to survive alone, was to give their mother her last honor.....
The first story ever set in Yudhaikeledai's "Frostpony" universe! Inspired by his wonderful and epic animation!
The cover art is an edited screenshot of "Between Dark and Dawn" and was created by me and DinkyUniverse.
Chapters (1)