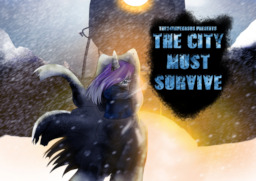 Source
Beneath the blistering blizzard and the freezing frost that swallowed the world, a group of ponies cling desperately to existence. They are the last of ponykind, and the future of their species, if one even remains, rests solely on their shoulders. Hidden in a crater from the worst of the wind, Rarity and the other ponies who managed to find shelter struggle to eke out an existence in a life governed by one rule, and one rule only:
The City Must Survive.
---
Cover art by Ruirik.
Editing by Solidfire.
Inspired by the wonderful game of Frostpunk.
Chapters (1)