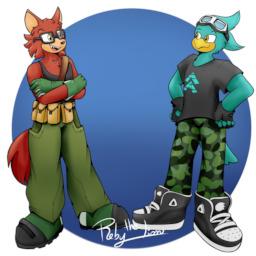 Co-written with The Saiyan Brony.
---
Two gamers are brought together by their love of their favorite video game, Sonic Forces. However it's their love of this very game that gets them both sucked into a world not their own, in bodies that are both strange yet so familiar. Follow these two on their journey in a whole new world with adventure around every corner. What wonders will they see? Will they be able to face the dangers that come their way? How will they return to where they came from, if they even can?
---
A shoutout to RebyTheLion for making our new cover art! Check out her page, she's really talented! I'd also like to thank Blizzard-Chill and PinkeyApple for taking my commissions as well. They're both incredible artists and I hope you all visit each of their pages!
---
Chapters (6)