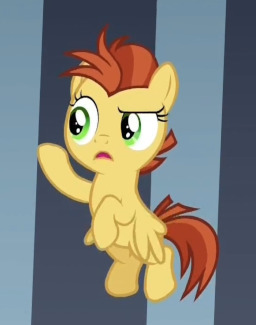 Spoilers for "The Ending of the End" of the brilliant Season 9 Finale ahead! Proceed with caution!
What is a hero?
It's the question all of Lemon Crumble's thoughts come down to. She has made the pegasi realize that they needed to help the earth ponies and the unicorns, that they have to stick together with their fellow pony tribes, because only if they stand united in friendship, Equestria can be a strong and safe place.
She has led them into battle, has fought herself to protect her kingdom. She has fulfilled her duty for Equestria.
But even with all that, something was missing. An answer. An answer on the most important question Lemon Crumble had to ask herself after becoming a hero:
Why did she help?
Please don't debate Lemon Crumble's gender in the comments and please refer to her as a filly only. Otherwise you will be met with an instant block. This is not the place for debates, keep the comments relevant to the story.
Chapters (1)