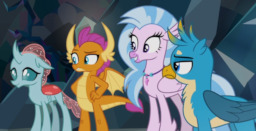 Source
"We need like, magically entwined rings. Six of them. Forged together. Enchanted together. Together forever. Like we're going to be. And I don't think that there's anything like that that we know about. So no marriage for now."
Smolder scratched the back of her neck. "Actually...maybe...I know a spot?"
"You're kidding," Gallus said.
"I was holding off on talking about him until it was time to propose," said Smolder. "He's an old fart who lives in a cave on the borders of the Dragonlands. His place is kinda camouflaged to non-dragons so the professors don't really know about it and neither do your species' governments."
"Well, I know what we're doing today," Ocellus said. "Committing crime for the sake of my five fiancees. You know, this is one of the few things that I think both Chrysalis and Thorax would be proud of me for."
---
Commissioned by Ice
Chapters (1)