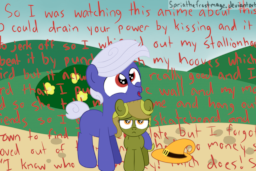 Source
Author's Note:
According to the rules, posting the same story twice is okay if the two versions have different ratings.
Fluttershy deals with various problems with her nicotine vaporizer, Marine Le Pen comes to Equestria, the girls go to earth, mostly Montana to defeat springs that are killing people.
This was mostly written with voice to text and my right hand, since I was laying on my bed in such a way that it was much easier to use my right hand on the keyboard than my left hand. Then I went back and cleaned it up so it would pass inspection from the FimFic police. Does anypony remember what the original title was? I'm too lazy to find it in my emails and also I avoid my emails since they are overwhelming and I get like 200 each day and they are a lame source of stress and anxiety.
Also the cover picture has nothing to do with the story.
I really did try to get to sleep but my sleep schedule is messed up.
Chapters (1)