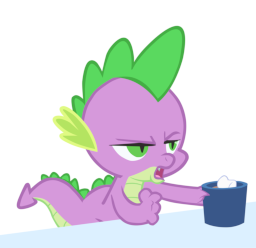 The Official Sequel to Spike's Home Alone.
Don't panic! Hiatus is temporary, suffering serious writers block with this story atm. Got another one in the works to keep you entertained. Should be submitting it on Monday.
A few weeks have passed since Spike and Fluttershy made their relationship official. Despite a few bumps in the road it seems the perfect ending the fairy tales always promised. What follows however, is something that no one could have prepared them for.
But first!
A massive thank you to all those who gave me such a warm welcome to FiMFiction! Especially those who found Spike's Home Alone as interesting to read as it was to write! A number of you asked for a sequel so here you go, free of charge.
Sorry for the long hiatus, my life's been getting pretty busy lately. If you enjoyed this fan fic or it's predecessor, Spike's Home Alone, I'm now looking for proof-readers and an editor. Please message me if you're interested.
Haven't yet read Spike's Home Alone?
Here's the link:
http://www.fimfiction.net/story/37900/Spike's-Home-Alone
Chapters (4)