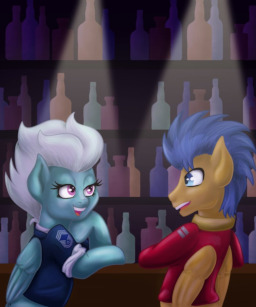 Source
Life doesn't always go smoothly, and relationships rarely work out as expected. Fleetfoot has recently become aware of that. So, when her partner turns her life into a constant competition, she seeks relief in a solitary gym session in order to deal with it.
It is only when she gets surprising company that she discovers how cathartic togetherness can be.
---
Winning entry of the "A two-faced charade" contest. Proofreaders/Editors were Chaospaladin, 0_0 and Doggyshakespeare. The cover art was commissioned from the talented MarieDRose.
Rated and tagged for implied intimacy/sex and all the bitter consequences of cheating, as well as some mild language here 'n there.
This story is part of the Shadowverse main timeline.
Chapters (1)