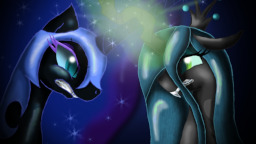 Source
Returning from her banishment and taking over Equestria had been the easy part. Ruling over it, Nightmare Moon had come to realize, was the real challenge.
One fateful night, an assassin gives her a dilemma that shows her just how great a challenge it will be.
---
My thanks go to Chaospaladin and AlicornPriest for their help with the story and to MiesDo for the cover art.
---
This story is part of the Shadowverse alternative timeline.
Chapters (1)