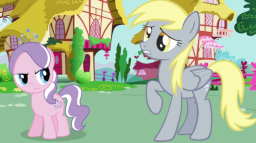 Ditzy has a lot of fun in Ponyville, especially with her daughter Dinky, but sometimes Someponies are mean to Ditzy and she thinks that's not nice, she doesn't like bullies!
A short story written in the mindset of Ponyville's, happiest mentaly handicapable pony!
Felt like giving this story a try, it's a risk with it's style of sounding like Ditzy's conciousnous but hopefully some of you enjoy it!
Chapters (1)