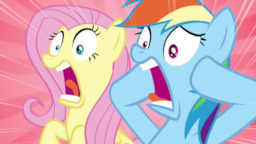 Motion pictures impact individuals in different ways. The Exorcist, for example, scared audiences to the point that some ran out of the theater screaming.
However, every now and then, a film comes along and impacts individuals in a way that's much different than simply scaring them.
Sometimes, the film scars them.
And Rainbow Dash has just rented one of those films.
The Human Centipede.
---
Edited by James Fire.
Chapters (1)