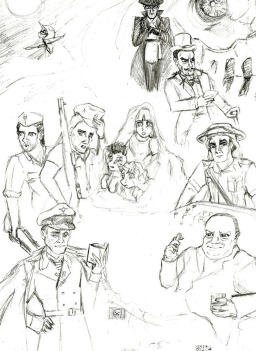 Source
North Africa 1942. The combined armies of Germany and Italy hold the line in the harsh merciless deserts against the relentless advance of the British Imperial troops. For two Axis soldiers, every day is becoming more and more like the one before.
Until they stumble across three strange children, one human and two foals, trapped and frightened on the forbidding warfront and searching for any way to keep themselves safe and return home.
Cover art is made by the very talented Purple Patch and I like to thank Nightmare Darkness for proofreading. I also like thank to HumanSVD, for allowing me to use is 2 OC. If you want to read his two stories where they appear, go here and here
Meanwhile, fearing for the children and their families, Princess Luna sends one of her chosen knights to seek out the missing innocents and return them to Equestria. The knight hurries to their aid, unaware that a fearsome hunter from his past is watching, waiting to strike.
Chapters (19)