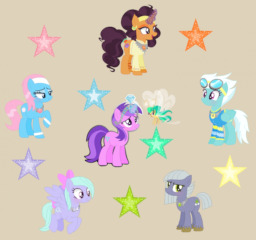 Amethyst Star (also known as Sparkler) is a unicorn who lives in Ponyville. She's the librarian for the Golden Oaks Library, and loves to read. But when there's a huge threat to Equestria and she knows how to stop it, she isn't just going to sit idly by.
Amethyst needs to make sure the planning for the thousandth Summer Sun Celebration goes by perfectly. After all, they do call her the best organizer in all of Ponyville for a reason. But when things go horribly wrong and Nightmare Moon returns, she needs to find the Elements of Harmony and somehow harness their power against the evil alicorn. But Amethyst isn't alone on her quest for the Elements, as five other ponies are coming with her.
Feel free to add to the TV Tropes page!
Other Tags: Flitter, Breezies, Nightmare Moon
Chapters (17)