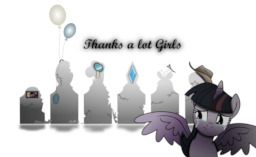 Source
Inspired by one of my new fave songs in my fave show. Also inspired by others.
Edited and Proofread by atronosthelast and Griphongirl_Ellie
Picture found here.
Rated Teen for Violence
It has been a few years since Twilight and her friends had given up the Elements of Harmony. They have been through so many adventures together with or without the Elements. Twilight knew even without the Elements, she and her friends would be able to come over what ever was thrown at them.
Or so she thought...
I have made a group to post stuff related for this story, but I'm still working on building it up. If you would like to go ahead and join, feel free.
As many of you know, music can make a big impact in peoples lives, including mine, so I want to share with you my inspiration list. (not all of it is complete yet)
Chapter 1 - Helping with Flurry Heart: Friends In My Heart
Chapter 2 - The Sleepover: Best Friends Until The End Of Time
Chapter 3 - They're Back...:
Chapter 4 - The Plan:
Chapter 5 - Failure: Roxas Theme
Chapter 6 - Goodbye: (The song that inspired the story,) Cold
Chapter 7 - Not Again: Destiny
Chapter 8 - How Could He...?: Ventus's Theme
Chapter 9 - Nightmares:
Chapter 10 - Coma: All Our Days
Chapter 11 - Shock:
Chapter 12 - Not Giving Up Yet: Wings
Chapter 13 - Night Time Fears: You'll Be in My Heart Music Box Version
Chapter 14 - The Big Attack Part 1: All Things Must Die (no instrumental to this date)
Chapter 15 - The Big Attack Part 2:
Epilogue: Home (no good instrumental to this date)
---
My YouTube Channel!
My Facebook page!
Art inspired for this story
My Story Library!
My Discord Server!
Chapters (16)