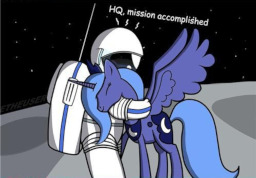 Source
Don't believe everything that you're told. Question everything, believe nothing. The first moon landing that you learned about in school was all lies, the reality of the matter is very different...
(I can not stress enough the fact that this is [obviously] set in an Alternate Universe.)
((On Hiatus until further notice - I will not abandon this, I just need some time to brainstorm! I Pinkie-Promise!))
Special thanks to Fyrebird for pointing out many critical flaws and overlooked inaccuracies, and helping me correct them.
Credit for the cover art goes to No Name Brony on MyLittleBrony!
Chapters (6)