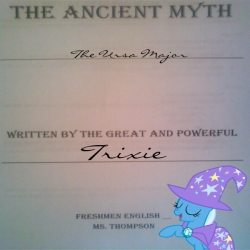 A humanized version of The Great and Powerful Trixie is chased out of Manhattan, she takes refuge in the dangerous Everfree forest.
READ THIS PLEASE, THE COVER WILL MAKE SENSE!!!
I got an incredible opportunity in my English class, the assignment was 'To write your own Greek Myth explaining a natural phoenomenon, origin myth, odyssey...' Well, on the brainstorming packet where to put your name, it says 'Written By The Great and Powerful _____' That's where I got the idea for this fic, it explains the origin of the Ursa Major constellation that we occasionally see in the night sky.
.../> EDIT: I got a 25/25 (100%) for this.

Ahead of time, thank to everypony for reading and commenting!
Chapters (1)