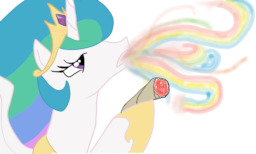 I can't believe I wrote this...
Pinkie Pie is known for her ability to host spontaneous yet ultimately amazing parties, but what happens when she decides to host a different type of party?
Note: I DO NOT CONDONE THE USE OF MARIJUANA OR THAT OF ANY OTHER DRUGS.
Note II: This is my first fic, so yay~! Constructive criticism is appreciated.
This isn't meant to be taken seriously in the slightest, please forgive me.
Chapters (1)