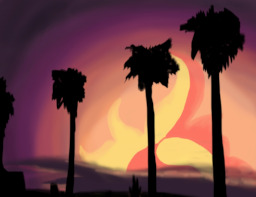 The Anon-A-Miss incident is beyond control and despite figuring out the blogger's true identity, no one believes her, her friends have abandoned her, and Sunset Shimmer finds herself alone and at the mercy of the world until a stranger comes to her aid.
Even though she has only known this person for less than a day, Sunset Shimmer finds relief in her kindness and a solution in a bold suggestion. She decides to head west to Los Pegasus with her new acquaintance, finding a different way of life among a group of interesting people. Now that she is in a new place where no one knows her past or treats her with contempt... will she ever want to go back to Canterlot City?
00000 ----- 00000
Hey look, a friend make a TV Tropes entry for this. http://tvtropes.org/pmwiki/pmwiki.php/Fanfic/TellMeBaby
00000 ----- 00000
So yeah, everyone and their grandma has done an Anon-A-Miss story, based on the Equestria Girls comic book that was, quite honestly, not a very good story. If you couldn't guess I'm inspired by being a So-Cal (Southern California) kid and the RHCP (Red Hot Chili Peppers). Because (to my knowledge) THEY HAVEN'T SHOWN LOS PEGASUS IN THE SHOW (it's clearly Los Angeles and the west coast, show us some love!) AND IT'S ABOUT TIME A VERSION OF IT WAS THOUGHT UP (well, what I think up, others probably have thought it up).
So enjoy Sunset Shimmer on the west coast baby!
Edit: officially calling this universe the Guitars, Sugar, OCs, and Magik universe.
Chapters (8)