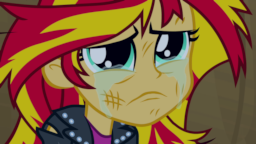 This story is a sequel to Anon-A-Miss: Chaos
---
Anon-A-Miss have exacted their revenge, but as the smoke clears it becomes apparent that Sunset Shimmer isn't the only one affected...
Third and final book of Anon-A-Miss in the Anon-A-Miss Saga.
The Main 7 tag is up for simplicity, as Sci-Twi does not appear in this story.
Part of "Not Just Any Old Continuity", which includes
Not Just Any Old Trilogy
The Crystal Prep Chronicles
TimberTwi Tales
Check out all of my stories here!
Chapters (7)