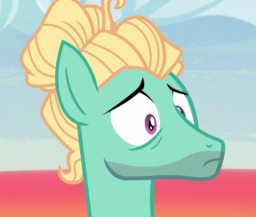 Source
This story is a sequel to Knackered
---
Zephyr Breeze just can't seem to catch a break. After doing his best to get his degree in Mane Therapy, and continuing to keep his parents company in their golden years, he's run up against the challenge of actually finding a way to put his degree to good use and find.... a J-O-B.
When his big sister Fluttershy finds out what a difficult time he's having, she tells him about a wonderful work opportunity that perfectly fits his skill set. Short hours, lots of pay, and he has to do almost nothing himself. All he has to do is show up for the job interview and make a good impression on his would be boss. And if Zephyr is good at anything, it's making a good impression.
It sounds too good to be true. Unfortunately for Zephyr, it probably is.
Chapters (5)