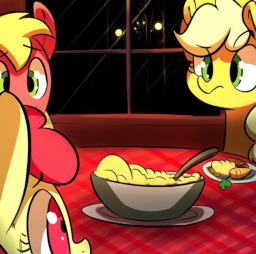 Apple Bloom thought it was just a game at first. That was what Sweetie Belle had said anyways. It was just something to bring out at sleep overs to scare each other silly before going to bed.
But then Apple Bloom started playing with the Ouija board by herself... or so she thought. At first she's thrilled when her parents contact her. It gives her a connection with them she always wanted but never had. But as time goes on, the things they say sound less and less like what a parent would say to a child. The things they ask her to do become more and more unthinkable.
When she decides to throw away the board game, she thinks that will be the end of it. Unfortunately, she might be done playing with it, but it isn't done playing with her.
- Inspired by a series of artworks by xxmarkingxx
Chapters (10)