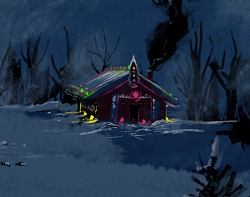 This story is a sequel to Something Sweet To Bite
---
A gruesome holiday tale with a peppermint twist. In the ancient lands where the three pony tribes once lived the Windigo's magic has locked the weather in an eternal winter storm. Two little foals, who have lost their way, seek to find food and shelter in the deep dark woods. What they take for their only hope for survival may in fact spell their doom.
Meanwhile, it's the first official Hearth's Warming Eve in Canterlot, but something is wrong in the fledgling capital of Equestria. Can Starswirl the Bearded come up with a plan to set things right?
This candy coated horror will warm your heart and chill your spine.
---
Cover Art by kvernikovskiy
Chapters (6)